As part of the Unified Community Platform project, this wiki and 38 others will be migrated to the new platform in the next few weeks. Minimal changes are expected as part of this migration. Read more here.
Zombeast
Zombeast is an uncollectible minion card, created by the Hunter hero power Build-a-Beast, from the Knights of the Frozen Throne set.
For more information, see Build-a-Beast.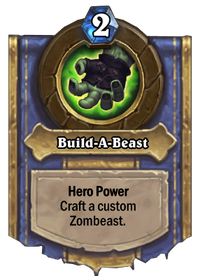 The beast in the art appears to be undead versions of Huffer, Leokk, and Misha (the three Animal Companions) stitched together. This card art is unused in game however, and the zombeast created will use the art of the first beast picked when Build-a-Beast is used.