Zentimo (boss)
Zentimo
This creepy swamp shaman is packing some bad voodoo.
For the minion card of the same name, see Zentimo
Zentimo is a boss that can be encountered during the Rumble Run, if the player has not choosen one of the Shaman Shrines.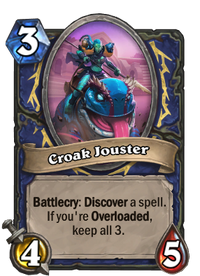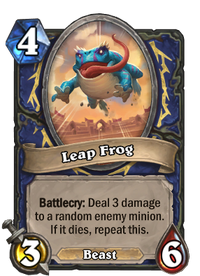 Introduction
Zentimo

Come, tadpole.
Emote Response
Zentimo

Greetings - Meh.
Well Played - Yeah.
Thanks - I, too, lick my eyeballs.
Threaten - You... beat me?
Oops - Hah hah.
Wow - Mmmm...yep.
Sorry - Mmm...kay.
Shrine is destroyed
Zentimo

Pah.
RRrrrevenge!
Unfortunate.
Shrine is restored
Zentimo

Again.
Rrready.
Rrrebuilt.
Destroys a shrine of Player
Zentimo

Gnat gonna happen.
Toy gone!
Wrecked.
Fire's out. (vs. Mage)
Gotcher tail. (vs. Paladin)
Buried. (vs. Priest)
Sunk. (vs. Rogue)
Bad juju. (vs. Warlock)
Shut it. (vs. Warrior)
Boss cards

Battlecry minion

Cry! Cry! Cry!

Damaging spells

Ahhh.. ha hah...
Feel de mojo.
I got de voodoo...

Card with Overload

Give it!
Got it.
More. More.

Naga Tonguelasher

Whippy Fish-mon.

Likkim

Found my stick.

Far Sight

Mmn? Hmmmm.

Hex

Grrr-iibbit!
Ribbit. Ribbit good.

Leap Frog

Frogged.

Krag'wa, the Frog

I been waitin'...

Rain of Toads

Krag'wall!
Almost out of cards
Zentimo

Cards. Need cards...
Death
Zentimo

(screams)
Defeat
Zentimo

Patience. De fly... always lands.
| Type | Emote |
| --- | --- |
| Introduction | Come, tadpole. |
| Greetings | You? *chuckle* Hello. |
| Well Played | Brilliant! |
| Thanks | Thank you. |
| Threaten | Deliciousss. |
| Oops | Ooooops. |
| Wow | Ribbiting! |
| Sorry | Sorry. |
| Almost out of cards | Cards... Need cards. |
| Concede | Beaten... BRAP! |
In World of Warcraft, Witch Doctor Zentimo is a worshipper of Krag'wa the Huge encountered by Horde adventurers in Nazmir.
In Hearthstone lore, Zentimo serves as the champion of Krag'wa's Frogs, the shaman team in Rastakhan's Rumble.
The crowd finds this witch doctor mysterious, quiet, and more than a little unsettling. He's content to let his giant frog loa, Krag'wa, do the fighting while he helps Shamans master channeling elemental magic.[1]
Please add any available information to this section.