Worshipper (Heroic)
Worshipper
Your hero has +3 Attack on your turn.
For the Normal mode version, see Worshipper (Normal)
Worshipper is a boss minion card used by Heroic mode Grand Widow Faerlina in Curse of Naxxramas. It is not available to players.
For more information, see Grand Widow Faerlina.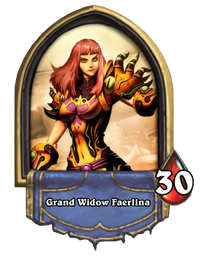 Summon

The Widow embraces me!
Attack

Grand Widow!
Death

I have failed!