Wicked Knife (Maiev Shadowsong)
Wicked Knife is the weapon generated by the hero power used by the rogue alternate hero Maiev Shadowsong. It is identical in function to the normal Wicked Knife.
For more information, see Wicked Knife.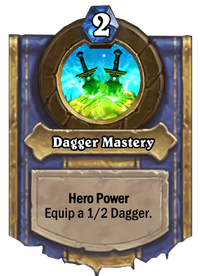 If you play Doomerang with Maiev's Wicked Knife equipped and your hero is not golden, it appears as a unique non-golden animated card in your hand.