Warsong Rexxar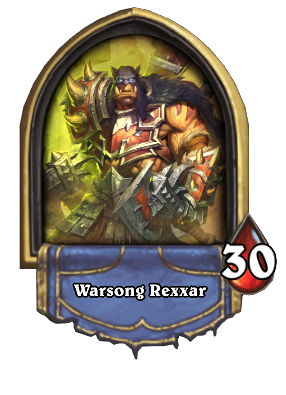 For other appearances of Rexxar, see Rexxar (disambiguation).
Warsong Rexxar is an alternate hero for the

Hunter class in Hearthstone: Heroes of Warcraft.
Warsong Rexxar can be purchased through Warsong Rexxar Bundle, which also contains 5 Hunter packs and is available from October 13 to October 20, 2020.[1]
| USD | EUR | GBP | AUD |
| --- | --- | --- | --- |
| $9.99 | €9.99 | £7.70 | $13.66 |
When viewed in the collection, Warsong Rexxar has the following flavor text:
Rexxar initially joined the Horde to save his people from war. Later, he rejoined to hang out with Thrall again!
Please add any available information to this section.
Warsong Rexxar uses some of the same quotes as Rexxar. Only different emotes are listed. For a full list, see Rexxar#Quotes.
| Type | Emote |
| --- | --- |
| Thanks | I swear it. |
| Well played | Impressive. |
| Greetings | ... |
| Mirror Greetings | ... |
| Oops | Failure? |
| Threaten | I don't want to do this... But I will. |
| Attack | ... |
| Opening remark | For the Horde! |
| Mirror start | ... |
| Selection in Arena | Peace is always fragile. |