Warlock/pt
Gul'dan representa a classe

Bruxo em Hearthstone: Heroes of Warcraft.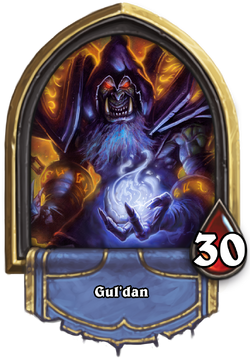 Muitos jogadores novos podem se afastar inicialmente do Bruxo por que a classe se utiliza muito de mecânicas de "auto-agressão" para poder ganhar vantagem nas cartas e evocar mais criaturas. Este estilo de jogo fica mais evidente em seu poder heroico, que causa 2 danos ao seu próprio herói. Outras cartas específicas do Bruxo, como Fogo d'Alma, seguem esta tendência. Ela exige que o jogador descarte uma carta para poder ser posta em jogo. Pacto Sacrificial, também, requer que você destrua um lacaio aliado.
Devido às mecânicas de "auto-agressão" do Bruxo, uma estratégia envolvendo Lord Jaraxxus pode ser usada para curar o seu campeão retornando-o para 15 de vida quando sua vitalidade estiver muito baixa. Por ser utilizada por muitos jogadores Bruxos, é possível que o seu oponente já esteja esperando por isso. Apesar de ser uma carta poderosa que pode mudar o rumo da batalha, é aconselhável não jogar Lord Jaraxxus muito cedo, pois seu oponente pode estar escondendo cartas com grandes quantidades de dano em sua mão.
Bruxo é considerada uma classe de "jogo longo" com sua Conversão de Vida permitindo que eles comprem cartas para sobreviver até que cartas caras e poderosas possam ser postas em jogo ou para criar combinações que geram monstros poderosos, como o Void Terror. Apesar de muitas cartas do Bruxo causarem auto-ferimentos, outras cartas podem compensar isto curando o Bruxo, como Drenar Vida e Pacto Sacrificial. Molten Giant é muito efetivo em um deck Bruxo pois, com sua natureza auto-aflitiva, pode evocá-lo com pouco ou nenhum custo de mana em um jogo avançado.
Bruxos também podem usar decks que são agressivos já no começo da partida utilizando cartas de baixo custo com penalidades, como Blood Imp, Flame Imp, Súcubo, e até mesmo um poderoso Pit Lord. Apesar do risco de enfrentar cartas de jogo avançado com Área de Efeito, usando estes decks o Bruxo pode finalizar uma partida rapidamente, utilizando-se extensivamente de Conversão de Vida e com uso cuidadoso de benefícios como Power Overwhelming e Demonfire.
INFERNO! is the version of the Hero Power that Warlocks get when they summon Lord Jaraxxus.
While Life Tap may seem like an unworthy trade to newcomers, the ability to gain card advantage is very strong in any CCG, making it one of the better hero powers in the game.
All classes can also use spells in their decks which do not have a defined class. See Spell cards.
All classes can also use demons in their decks which do not have a defined class. See Demon cards.
Currently Warriors, Warlocks, Paladins, Rogues, Shamans and Hunters have special equipment cards. See Equipment cards.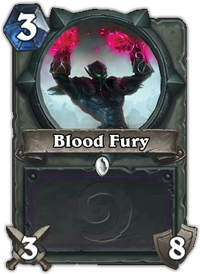 The following cards are obtained for use in a Warlock deck by reaching the following levels as a Warlock:
| Level 2 | Level 4 | Level 6 | Level 8 | Level 10 |
| --- | --- | --- | --- | --- |
| | | | | |