Voidlord (Battlegrounds)
Voidlord
Taunt
Deathrattle: Summon three
1/3 Demons with Taunt.
Voidlord is a Tier 5 minion in the Battlegrounds game mode.
The Voidlord synergizes really well with Soul Juggler as the Voidlord can make you do the Soul Juggler's damage 4 times in one drop (assuming your board is clear enough to spawn all three Voidwalkers). As both the Voidlord and your Voidwalkers are taunt minions, it also prevents others minions from directly targeting your Soul Juggler. He is, however, still vulnerable to cleaves from the Cave Hydra or the Foe Reaper 4000. If you have minions without taunt, try to position your Soul Juggler as far to the right as possible with your non-taunt minion next to it to reduce the change of him getting cleaved down. This will, however, also push your Voidlord further left, increasing the chance that you will not spawn all three Voidwalkers. Beware that Soul Juggler builds are vulnerable to very high-health monsters as your damage is limited by your count of minions. It does very well against low-mid health poison builds as they can be disposed of without using their effect with a well-placed shot.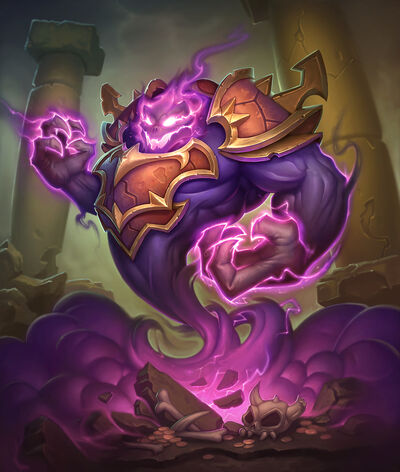 Server-side patch (2019-11-19): Moved to Tavern Tier 5 from Tavern Tier 6.
Patch 15.6.0.35747 (2019-11-05): Added.