Vectus
Vectus
Battlecry: Summon two 1/1 Whelps. Each gains a Deathrattle from your minions that died this game.
Don't let that dark magic worry you. He'll ensure they hatch without a scratch.
Vectus is a legendary neutral minion card, from the Scholomance Academy set.
Vectus can be obtained through Scholomance Academy card packs, through crafting, or as an Arena reward.
| Card | Crafting cost | Disenchanting |
| --- | --- | --- |
| Vectus | 1600 | 400 |
| Golden Vectus | 3200 | 1600 |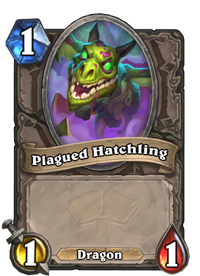 Vectus is (obviously) a great minion for decks heavy in strong Deathrattles - good examples are minions like Teacher's Pet, Enhanced Dreadlord, or Plagued Protodrake. A notable use for Vectus is to copy the Deathrattles of legendaries with Prime forms in order to get another copy of the Prime shuffled into your deck.
Summon

Fly! Make chew toys of them!


Attack

Begin the torture!

This card art depicts a Hearthstone's unique human version of Vectus.
From Wowpedia:
Vectus is a level 42 elite skeletal mage mini-boss and one of the main necromancy teachers of Scholomance, the School of Necromancy. Vectus developed the plagued dragonflight found inside Scholomance, which he got by paying Tinkee Steamboil in the Burning Steppes money for eggs out of Blackrock Spire.