Unrelenting Warrior
Unrelenting Warrior
Deathrattle: Summon a Spectral Warrior for your opponent.
Unrelenting Warrior is a boss minion card, used by Gothik the Harvester in Curse of Naxxramas. It is not available to players. The card's Deathrattle summons a Spectral Warrior for the opponent.
For more information, see Gothik the Harvester.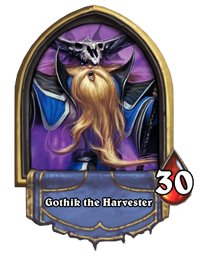 Summon

I'll be back.
Attack

Cannot...control!
Patch 1.1.0.6024 (2014-07-22): Added.