Unidentified Maul
Unidentified Maul
Gains a bonus effect in your hand.
When all you have is an unidentified maul, everything else looks like an unidentified nail.
Unidentified Maul is a rare paladin weapon card, from the Kobolds and Catacombs set.
Unidentified Maul can be obtained through Kobolds & Catacombs card packs, or through crafting.
| Card | Crafting cost | Disenchanting |
| --- | --- | --- |
| Unidentified Maul | 100 | 20 |
| Golden Unidentified Maul | 800 | 100 |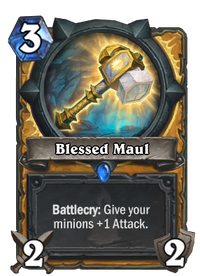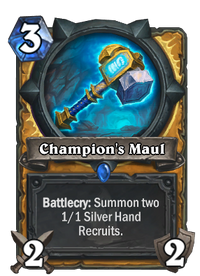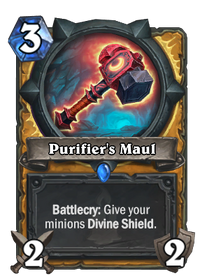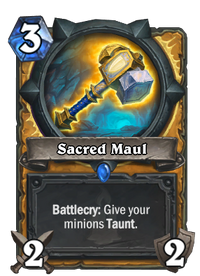 This card is best suited for an aggro deck, since its effects have better value with multiple minions. It doesn't have as much attack as Rallying Blade, but its effect is easier to take advantage of.
When the card can provide the best value depends on the current board situation. Blessed Maul and Purifier's Maul are better when you're ahead on board and have more minions, while Champion's Maul is better if you're behind. Sacred Maul is generally the worst outcome for an aggro deck, but it can at least be used to protect yourself or another minion.
The strenght of this weapon lies in its Battlecry. The right timing is the key for an effective use. So, even the apparently useless Sacred Maul, can give you a strong tank minion. Silver Hand decks and Adapt minions have good synergy with any Maul. The weapon itself can be used for some good trades by earlier stages and can be even followed by a Rallying Blade for direct damage or baiting a area spell.
Rummaging Kobold will not give you the Unidentified version, but one of the variants that was used before.
Hoard Pillager is useless with any maul. Since you will equip the maul, it will not activate it's Battlecry.