Unidentified Contract
Unidentified Contract
Destroy a minion. Gains a bonus effect in your hand.
The terms of service are constantly changing.
Unidentified Contract is an epic rogue spell card, from the Rise of Shadows set.
Unidentified Contract can be obtained through Rise of Shadows card packs, through crafting, or as an Arena reward. Regular Unidentified Contract can also be obtained through the Highest Rank Bonus chest at the end of a Ranked season.
| Card | Crafting cost | Disenchanting |
| --- | --- | --- |
| Unidentified Contract | 400 | 100 |
| Golden Unidentified Contract | 1600 | 400 |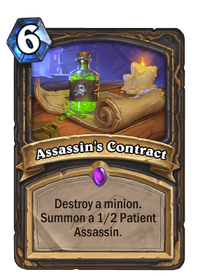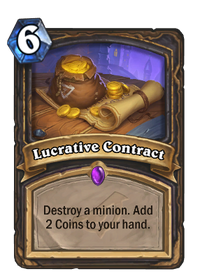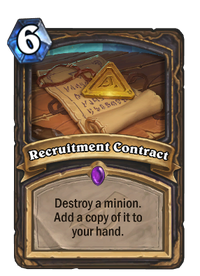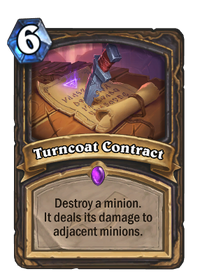 Unidentified Contract has the same effect as Assassinate, but adds an effect for 1 more mana. Each of the effects are well worth the extra price, however it greatly slows down how fast the card can be played. Because of the random nature of the card, it's important to play with each outcome in mind.
In Wild, Walk the Plank is an efficient substitute for this card, provided you can play around its small condition. Vilespine Slayer will almost always be a better choice.
The card is a call-back to the Unidentified mechanic from Kobolds & Catacombs.