Twilight Geomancer
Twilight Geomancer
Taunt. Battlecry: Give your C'Thun Taunt (wherever it is).
"Ok C'Thun, repeat after me: 'Your mother was a hamster.'"
Twilight Geomancer is a common neutral minion card, from the Whispers of the Old Gods set.
Twilight Geomancer can be obtained through Whispers of the Old Gods card packs, or through crafting.
| Card | Crafting cost | Disenchanting |
| --- | --- | --- |
| Twilight Geomancer | 40 | 5 |
| Golden Twilight Geomancer | 400 | 50 |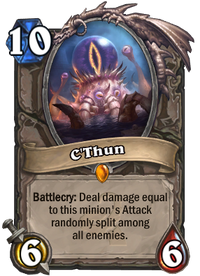 A cheap, solid early game Taunt with good stats for the cost, useful even outside of a C'Thun deck. It costs one less mana than Silverback Patriarch with the same stats (which, however, has the Beast minion type).
Beware that giving C'Thun Taunt makes it vulnerable to The Black Knight.
Summon

Oops. I broke a diamond.
Attack

Ruby to the face!
From Wowpedia:
Twilight Geomancers are Twilight mobs located at Firewatch Ridge in Searing Gorge.
This is the only related minion to grant C'Thun a buff that doesn't increase its stats.