Trigger Deathrattle
"Trigger Deathrattle" is an unofficial term used to refer to cards that can activate a friendly minion's Deathrattle.
While no official keyword is used to denote the ability, precisely the same text is found on five cards: Trigger a friendly minion's Deathrattle (effect)
Name

/ Desc

Rarity
Type
Subtype
Class
Cost
Atk
HP
Description
Nine Lives
Epic
Spell
Hunter
3

Discover a friendly Deathrattle minion that died this game. Also trigger its Deathrattle. Beware the night of the living pets!

Oblivitron
Legendary
Minion
Mech
Hunter
6
3
4

Deathrattle: Summon a Mech from your hand and trigger its Deathrattle. Reduce, reuse, re-rattle!

Showing all 2 cards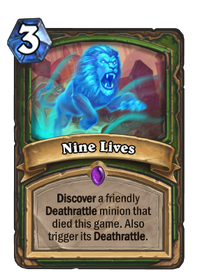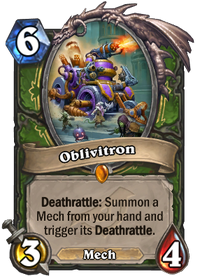 Wild format
 This section contains information exclusive to Wild format.
Name

/ Desc

Rarity
Type
Subtype
Class
Cost
Atk
HP
Description
Play Dead
Common
Spell
Hunter
1

Trigger a friendly minion's Deathrattle. He's a very literal dog.

Fireworks Tech
Rare
Minion
General
Hunter
2
2
1

Battlecry: Give a friendly Mech +1/+1. If it has Deathrattle, trigger it. She learns by trial and error. Mostly error.

Necrium Blade
Rare
Weapon
Rogue
3
3
2

Deathrattle: Trigger the Deathrattle of a random friendly minion. Grab death by the handle.

Terrorscale Stalker
Rare
Minion
General
Hunter
3
3
3

Battlecry: Trigger a friendly minion's Deathrattle. Likes to scare his friends half to death.

Feign Death
Epic
Spell
Hunter
2

Trigger all Deathrattles on your minions. The hardest part about doing a "Feign Death" convincingly is learning how to make the right smell. It takes a lot of commitment.

Necrium Vial
Epic
Spell
Rogue
5

Trigger a friendly minion's Deathrattle twice. Two near-death experiences for the price of one!

Spiritsinger Umbra
Legendary
Minion
General
Any
4
3
4

After you summon a minion, trigger its Deathrattle effect. She sees the fate of anyone she meets, but it's always the same: dinosaur attack.

Princess Huhuran
Legendary
Minion
Beast
Hunter
5
6
5

Battlecry: Trigger a friendly minion's Deathrattle. She flitters around Ahn'Qiraj dreaming of the day she will meet a sweet prince, whom she can lay thousands of eggs with.

Showing all 8 cards