Treenforcements
Treenforcements
Choose One - Give a minion +2 Health and Taunt; or Summon a 2/2 Treant.
Treemendous value!
Treenforcements is a rare druid spell card, from the Descent of Dragons set.
Treenforcements can be obtained through Descent of Dragons card packs, through crafting, or as an Arena reward. Regular Treenforcements can also be obtained through the Highest Rank Bonus chest at the end of a Ranked season.
| Card | Crafting cost | Disenchanting |
| --- | --- | --- |
| Treenforcements | 100 | 20 |
| Golden Treenforcements | 800 | 100 |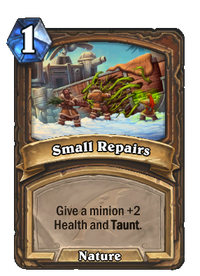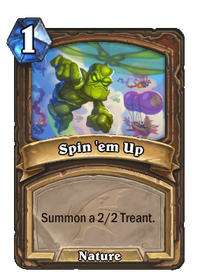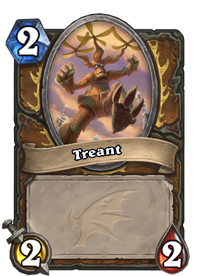 This card is a nice addition to the decks relying on Choose One and Treants. As a 1-mana spell, it can be used immediately as a 1 mana 2/2 on turn 1. While Small Repairs is often not great, the Taunt buff can force the opponent to trade a specific minion, or even prevent lethal in the right circumstances.
Treenforcements synergizes extremely well with Dendrologist and Aeroponics, making both these cards much easier to activate their conditional effects. The player can summon turn 1 summoning a Treant, then turn 2 Dendrologist; or effectively play Aeroponics with only 4 mana in the worst scenario.
Treenforcements also synergizes with Keeper Stalladris, generating more cheap spells to increase flexibility.