Transform in hand
"Transform in hand" is an unofficial term used to refer to cards that transform into another card, if a specific event happens.
While no official keyword is used to denote the ability, precisely the same text is found on three cards: Each time/turn(trigger), transform this into X.
Transform in hand minions can transform into themselves.
Transform in hand cards have a different color to help them distinguishable from normal cards.
Transform in hand cards have their effect via a specific enchantment.
Cards that transform in hand no longer keep any enchantments when they transform.
Name

/ Desc

Rarity
Type
Subtype
Class
Cost
Atk
HP
Description
Bandersmosh
Legendary
Minion
General
Shaman
5
5
5

Each turn this is in your hand, transform it into a 5/5 copy of a random Legendary minion. The Shudderwock finds him particularly frumious.

Showing the only card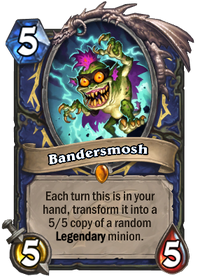 Wild format
 This section contains information exclusive to Wild format.
Name

/ Desc

Rarity
Type
Subtype
Class
Cost
Atk
HP
Description
Shadow Reflection
None
Spell
Rogue

Each time you play a card, transform this into a copy of it. 

Shifting Scroll
Common
Spell
Mage

Each turn this is in your hand, transform it into a random Mage spell. Next turn, this is going to be AMAZING.

Spellshifter
Common
Minion
General
Any
2
1
4

Spell Damage +1

Each turn this is in your hand, swap its Attack and Health. He also goes by "worg-lock."

Spellshifter
Common
Minion
General
Any
2
4
1

Spell Damage +1

Each turn this is in your hand, swap its Attack and Health. 

Pumpkin Peasant
Common
Minion
General
Any
3
2
4

Lifesteal

Each turn this is in your hand, swap its Attack and Health. Time to squash your opponent.

Pumpkin Peasant
Common
Minion
General
Any
3
4
2

Lifesteal

Each turn this is in your hand, swap its Attack and Health. 

Swift Messenger
Common
Minion
General
Any
4
2
6

Rush

Each turn this is in your hand, swap its Attack and Health. Same turn delivery - guaranteed!

Swift Messenger
Common
Minion
General
Any
4
6
2

Rush

Each turn this is in your hand, swap its Attack and Health. 

Molten Blade
Rare
Weapon
Warrior
1
1
1

Each turn this is in your hand, transform it into a new weapon. It's a sword! It's a knife! It's a swizzle-stick!

Duskhaven Hunter
Rare
Minion
General
Hunter
3
2
5

Stealth

Each turn this is in your hand, swap its Attack and Health. After a short paws, she's back to herself again.

Duskhaven Hunter
Rare
Minion
General
Hunter
3
5
2

Stealth

Each turn this is in your hand, swap its Attack and Health. 

Gilnean Royal Guard
Rare
Minion
General
Any
8
3
8

Divine Shield, Rush

Each turn this is in your hand, swap its Attack and Health. Admittedly, they kind of dropped the ball with Prince Liam.

Gilnean Royal Guard
Rare
Minion
General
Any
8
8
3

Divine Shield, Rush

Each turn this is in your hand, swap its Attack and Health. 

Chameleos
Legendary
Minion
Beast
Priest
1
1
1

Each turn this is in your hand, transform it into a card your opponent is holding. He's everyone you want to be.

Shifter Zerus
Legendary
Minion
General
Any
1
1
1

Each turn this is in your hand, transform it into a different minion. It's like being able to play with THREE angry chickens!

Flobbidinous Floop
Legendary
Minion
General
Druid
4
3
4

While in your hand, this is a 3/4 copy of the last minion you played. Of all the scientists, he has the most knowledge (when measured in volume).

Showing all 16 cards