Time Rip
Time Rip
Destroy a minion. Invoke Galakrond.
"It's time. R.I.P."
Time Rip is a rare priest spell card, from the Descent of Dragons set.
Time Rip can be obtained through Descent of Dragons card packs, through crafting, or as an Arena reward. Regular Time Rip can also be obtained through the Highest Rank Bonus chest at the end of a Ranked season.
| Card | Crafting cost | Disenchanting |
| --- | --- | --- |
| Time Rip | 100 | 20 |
| Golden Time Rip | 800 | 100 |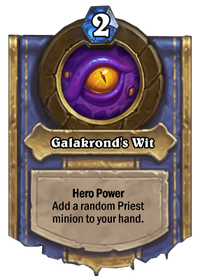 Please add any available information to this section.
This card is very inefficient for the cost in Priest, as while it is a better version of Assassinate, Priest already has many hard removals. (Forbbiden Words, Shadow Word: Horror and Shadow Word: Death). The random Priest minion, while it has the potential to be useful (Madame Lazul) there are many more potentially poorer or highly situational minions (Hench-Clan Shadequill, Scarlet Subjugator) makes the effect not worth it unless in a Galakrond Priest deck.