The Gatling Wand
The Gatling Wand
Deal @ damage split randomly among all enemies (improves for each spell you've cast this game).
The mightiest, mysticalest, fully automatic spellcasting tool the world has ever seen.
The Gatling Wand is an uncollectible mage spell card used in Tombs of Terror. It is one of Reno Jackson's signature treasures.
The player needs to defeat three Plague Lords to unlock this treasure.
For more information, see Tombs of Terror.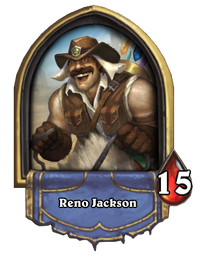 The Gatling Wand only activates from spells you play from hand, therefore, cards like the Deck of Wonders won't add to the overall damage. When you play a spell, you add 3 damage to the overall damage of it, making it a potential finisher.