The Forest's Aid
The Forest's Aid
Twinspell
Summon five 2/2 Treants.
Delicious Forest's Aid! Made from real forests.
The Forest's Aid is a rare druid spell card, from the Rise of Shadows set.
The Forest's Aid can be obtained through Rise of Shadows card packs, through crafting, or as an Arena reward. Regular The Forest's Aid can also be obtained through the Highest Rank Bonus chest at the end of a Ranked season.
| Card | Crafting cost | Disenchanting |
| --- | --- | --- |
| The Forest's Aid | 100 | 20 |
| Golden The Forest's Aid | 800 | 100 |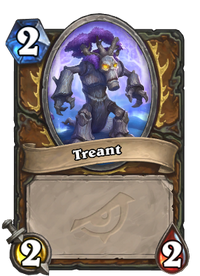 The Forest's Aid works as a late game value tool for a token deck. It provides two waves of minions that your opponent is forced to deal with, all of which threaten high damage. If left alive, the Treants are great targets for Savage Roar, Power of the Wild, or Blessing of the Ancients.
This spell works well with all Treant-related cards, such as Dendrologist and Mulchmuncher. It's especially devastating following up on Goru the Mightree, granting both waves of the spell 5/5 extra stats and sturdier bodies.