Sylvanas Windrunner (Battlegrounds)
For Sylvanas's other appearances, see Sylvanas Windrunner (disambiguation).
Sylvanas Windrunner is a retired hero that the player could pick in the Battlegrounds game mode.
For more information, see Battlegrounds.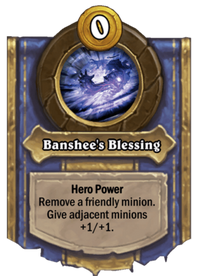 This hero power is best used on minions in Bob's tavern, to remove a minion you don't want then give 1-2 minions you do want a buff. This buff, however, is very minor at +1/+1. It can be used on minions in your warband but isn't recommended as the +1 gold from selling them will almost always be better than the +2/+2 total buff.
Battlegrounds
Heroes
Cards

Tier 1

Tier 2

Tier 3

Tier 4

Tier 5

Tier 6

Retired

Heroes

Sylvanas Windrunner

Minions