Stuffed Sack
Stuffed Sack
Deathrattle:Return your stolen minion!
For the boss card in Book of Heroes, see Stuffed Sack (Book of Heroes).
Stuffed Sack is a minion used by the Gnomenapper's Hero Power Nab on a minion in The Witchwood Monster Hunt mode.
For more information, see Gnomenapper.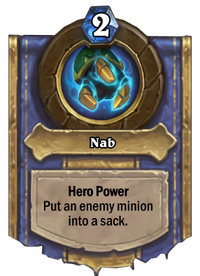 Summon

*muffled* Get me out of here!


Attack

*muffled* Help!


Death

Freedom!