Stellar Drift
Stellar Drift
Deal 2 damage to all enemy minions.
Stellar Drift is a choice card produced by Starfall's Choose One effect.
For more information, see Starfall.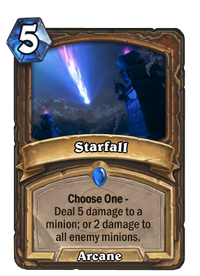 Stellar Drift is a Balance druid talent that increases the radius of Starfall and allows the druid to cast spells while moving while inside of the area.
Patch 14.0.0.29933 (2019-04-04): A number of "Choose One" cards have had unique art added for each possible option.