Stargazer Luna (boss)
Stargazer Luna
Help Luna align the stars! (And her minions).
For the minion card of the same name, see Stargazer Luna.
Stargazer Luna is the third boss of the Mirror lab in the Puzzle Lab.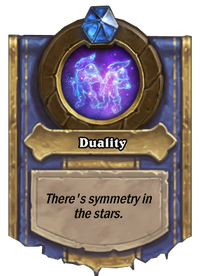 Before match
Zerek, Master Cloner

Enough fraternizing with her assistants. Help her and return.
Introduction
Stargazer Luna

There you are! Come. We've work to do.
Emote Response
Stargazer Luna

Did you speak this much to Zerek? *Sigh* I do not envy him.
Why must Boom always choose the chatty ones.
Your voice, it reminds me of a supernova. Noisy.
Idle
Stargazer Luna

I miss their twinkling beauty...
My beautiful constellations...
So many solutions yet to be explored.
The constellar are so magnificent. I hope to meet one one day.
There's a pattern in there, look deep.
This is what I get for not hiring an archivist.
True beauty lies within symmetry.
Restart
Stargazer Luna

Algalon, give us your blessing. We will succeed.
Just as stars from cosmic dust, we are reborn. *Sigh* Or given another chance.
Seems you've fizzled out. From the top.
The light of the stars will show you the way. This time, hopefully.
Puzzle 1
Stargazer Luna

These were so beautiful... before they broke. Fix them.
Puzzle 2
Stargazer Luna

The stars and planets must align.
Puzzle 3
Stargazer Luna

The possibilities are endless.
Puzzle 4
Stargazer Luna

Symmetry is the key to understanding the cosmos!
Puzzle 6
Stargazer Luna

It is so hard to imitate the real thing.
Return after leaving
Stargazer Luna

Ah! I calculated an 83% probability you'd return.
Completion
Stargazer Luna

Thank you. *Sigh* I suppose Zerek can have you back.