As part of the Unified Community Platform project, this wiki and 38 others will be migrated to the new platform in the next few weeks. Minimal changes are expected as part of this migration. Read more here.
Starfall
Starfall
Choose One - Deal 5 damage to a minion; or 2 damage to all enemy minions.
Is the sky falling? Yes. Yes it is.
Starfall is a rare druid spell card, from the Classic set.
Starfall can be obtained through Classic card packs, through crafting, or as an Arena reward. Regular Starfall can also be obtained through the Highest Rank Bonus chest at the end of a Ranked season, or as a first-time reward for first time reaching Silver 10 or Gold 10 in Ranked mode.
| Card | Crafting cost | Disenchanting |
| --- | --- | --- |
| Starfall | 100 | 20 |
| Golden Starfall | 800 | 100 |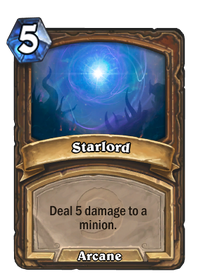 Starfall is a powerful removal card. Starfall is a Choose One spell, giving it a lot of versatility when compared to other removal spells. It can be used to damage multiple minions or can be used to deal heavy damage to a single minion.
The combination of Poison Seeds with Starfall can be used to destroy all of the opponent's minions.
Patch 14.0.0.29933 (2019-04-04): A number of "Choose One" cards have had unique art added for each possible option.
Patch 1.0.0.3890 (2013-10-02): Can now only hit minions. Choose One - Deal 5 damage to a minion; or 2 damage to all enemy minions.
Previous: Choose One - Deal 5 damage to an enemy; or 2 damage to all of them. [5 mana, Rare]
Alpha patch (unknown date, pre-May 2013): The Choose One effect Starfall now deals 5 damage instead of 4.