Sr. Scout
Sr. Scout
Charge. Windfury.
At the end of your turn, deal 6 damage to a random enemy minion.
After hitting a bullseye on all four Plague Lords, this explorer definitely earned his promotion.
Sr. Scout is an uncollectible shaman minion card used in Tombs of Terror. It is one of Sir Finley's signature treasures.
It is upgraded from Jr. Scout by defeating the first four Plague Lords.
For more information, see Tombs of Terror.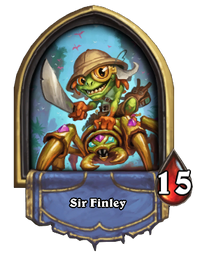 Summon

I've got this.


Attack

In my sights!