Spectral Rider
Spectral Rider
At the start of your turn, deal 1 damage to your hero.
Spectral Rider is an uncollectible boss minion card, created by the Deathrattle of Unrelenting Rider, a minion used by Gothik the Harvester in Curse of Naxxramas. It is not available to players.
For more information, see Gothik the Harvester.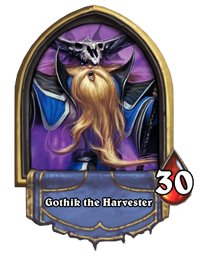 Summon

Ride forth!
Attack

Nooooooooo!