Sky Claw
Sky Claw
Your other Mechs have +1 Attack.
Battlecry: Summon two 1/1 Microcopters.
Carefully engineered to never grab the Mimiron plush toy.
Sky Claw is a rare paladin minion card, from the Descent of Dragons set.
Sky Claw can be obtained through Descent of Dragons card packs, through crafting, or as an Arena reward. Regular Sky Claw can also be obtained through the Highest Rank Bonus chest at the end of a Ranked season.
| Card | Crafting cost | Disenchanting |
| --- | --- | --- |
| Sky Claw | 100 | 20 |
| Golden Sky Claw | 800 | 100 |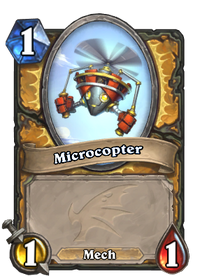 A powerful aggressive Mech that combines Microtech Controller and a limited Raid Leader into a single card. Due to its three-body spread, your opponent will have a hard time efficiently clearing this minion. While they'll almost certainly kill the Skyclaw itself first, you still have an addition two 1/1 Mechs in play for continued buffs. If Skyclaw is played on a board with a few Mechs in play, you can also make instant use of the attack buff.
Since the base Skyclaw is a Mech, it can be protected with Magnetic minions to give it a bit more health. Skyclaw can also be drawn by Crystology.
Sky Claw is a Gnomish copter.
From Wowpedia:
Gnomish copters are small gnomish flying machines capable of carrying goods with the grappling hook attached to their base. These lifts were first seen in Ulduar.
Sky Claw was originally meant to be a mount in Mists of Pandaria, but was scrapped for unspecified reasons and replaced with the Sky Golem.