Sir Zeliek (Heroic)
Sir Zeliek
Your hero is Immune.
For the Normal mode version, see Sir Zeliek (Normal).
Sir Zeliek is a boss minion card used by Heroic mode Baron Rivendare in Curse of Naxxramas. He is one of the Four Horsemen along with Baron Rivendare, Lady Blaumeux and Thane Korth'azz.
For more information, see The Four Horsemen.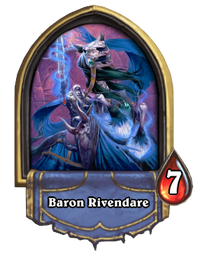 Opening remark

Invader! Turn away while you still can!
Attack
Not...Possible...
Death
It is... as it should be.
From Wowpedia:
Sir Zeliek is one of the Four Horsemen of Naxxramas. He was a paladin in life, so strong in his faith, that even in undeath, the power of the light still heeds his call, smiting his foes in battle.
Though his body is forced to obey Kel'Thuzad's commands, Sir Zeliek managed to retain his sanity and morals despite his corruption. This could be seen as a mark of great spirituality and mental strength.
Zeliek likely represents the "White Rider of Conquest", based on his color scheme and the wings on his helmet (signifying victory).