Sir Finley Mrrgglton (Battlegrounds)
For other representations of Sir Finley, see Sir Finley (disambiguation).
Sir Finley Mrrgglton is a hero that the player can pick in the Battlegrounds game mode.
For more information, see Battlegrounds.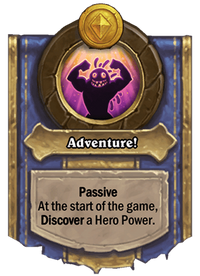 Sir Finley is basically a hero reroll; pick him if your other options are undesirable.
Since he gets to pick a Hero Power after all players have chosen their heroes, it gives him a slight tactical advantage in determining which Hero Power to select. For example, if there's a Nefarian in the game, you might want to avoid picking George's Boon of Light.
Battlegrounds
Heroes
Cards

Tier 1

Tier 2

Tier 3

Tier 4

Tier 5

Tier 6

Retired

Heroes

Minions