Silas Darkmoon (Battlegrounds)
For the minion of the same name, see Silas Darkmoon.
Silas Darkmoon is a hero that the player can pick in the Battlegrounds game mode.
For more information, see Battlegrounds.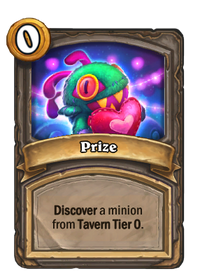 Each roll, there is a chance a minion in the Tavern has a ticket. Purchasing three minions with tickets add a Prize card to your hand.

At Tiers 1-3 there is a high chance to spawn 1 ticket or more. At Tiers 4+, up to 2 tickets can spawn, but sometimes none afterwards.
The hero power of this hero allows discovering a minion after buying three randomly assigned minions, equivalent to spending 9 coins. Once you have a high tavern tier it may be beneficial to buy a useless minion (of low tier, low stats or little effect in you warband), to "exchange" for discovering a high tier minion. Nevertheless building a solid early-game team is important because the benefit of this hero power is diminished if you are disadvantageous at the start.
Try upgrading tavern to tier 3 before discovering your first minion, which may be helpful in getting a minion providing permanent buff.
Battlegrounds
Heroes
Cards

Tier 1

Tier 2

Tier 3

Tier 4

Tier 5

Tier 6

Retired

Heroes

Minions