Siamat
Siamat
Battlecry: Gain 2 of Rush, Taunt, Divine Shield, or Windfury (your choice).
TAUNT. TAUNT.
For the boss of the same name, see Siamat (boss).
Siamat is a legendary neutral minion card, from the Saviors of Uldum set.
Siamat can be obtained through Saviors of Uldum card packs, through crafting, or as an Arena reward.
| Card | Crafting cost | Disenchanting |
| --- | --- | --- |
| Siamat | 1600 | 400 |
| Golden Siamat | 3200 | 1600 |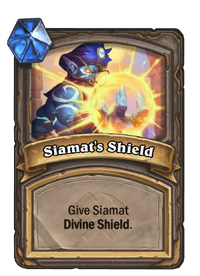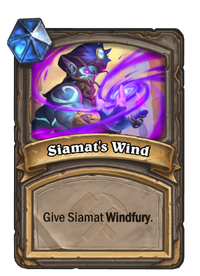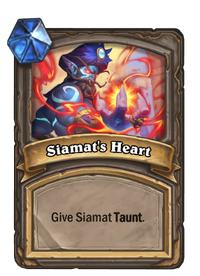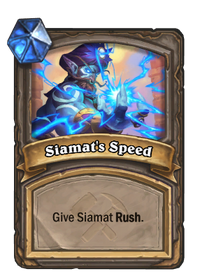 Please add any available information to this section.
Siamat is an extraordinarily versatile card. Each combination makes him a strong card in various situations. These are his most useful forms:
Doubling his Battlecry through Heart of Vir'naal, Spirit of the Shark or Brann Bronzebeard allows Siamat to acquire all four keywords.
Summon

Winds of the south, come to my aid!


Attack

Unleashed!

From Wowpedia:
Siamat, Lord of the South Wind, is the final boss in the Lost City of the Tol'vir.
He is a member of the Conclave of Wind. He was sent by Al'Akir at the behest of Deathwing to the Neferset tol'vir to cure them of the Curse of Flesh in exchange for their loyalty. After becoming exhausted from converting the population of Neferset into their stoney bodies, the Neferset turned on him, trapping him within the tower at the center of their lost city. After slaying the leaders of the city, adventurers accidently freed Siamat. He was then defeated within the crumbled ruins of the tower that imprisoned him.