As part of the Unified Community Platform project, this wiki and 38 others will be migrated to the new platform in the next few weeks. Minimal changes are expected as part of this migration. Read more here.
Sharkbait
For the boss card with the same name and without watermark, see Sharkbait (boss card).
Sharkbait is an uncollectible neutral minion card, summoned by Sky Gen'ral Kragg.
For more information, see Sky Gen'ral Kragg.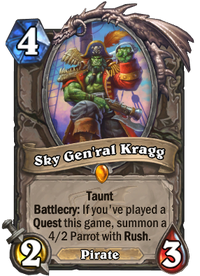 Sharkbait first appeared as Skycap'n Kragg's mount in The Grand Tournament. Unlike Kragg however, Sharkbait was first named in World of Warcraft where he appeared alongside his captain as an encounter in Freehold.
Sharkbait's Favorite Crackers can be obtained as a rare drop from Harlan Sweete, letting the player ride Sharkbait.
From the Mount Journal

Sharkbait's loyalty lies with whomever keeps the crackers coming.