Sewer Crawler
Sewer Crawler
Battlecry: Summon a 2/3 Giant Rat.
His clothing is "ratty" in more ways than one.
Sewer Crawler is a common neutral minion card, from the Kobolds & Catacombs set.
Sewer Crawler can be obtained through Kobolds & Catacombs card packs, or through crafting.
| Card | Crafting cost | Disenchanting |
| --- | --- | --- |
| Sewer Crawler | 40 | 5 |
| Golden Sewer Crawler | 400 | 50 |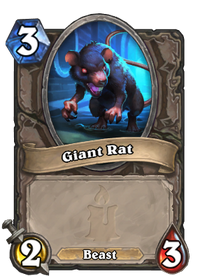 This minion is essentially the inverse of Razorfen Hunter. However, a stronger Beast and better Battlecry give it more synergy potential: The beast is more likely to survive for combos with Hunter and Druid beast-synergy cards, and doubling up the Battlecry with Brann Bronzebeard, Murmuring Elemental, and Return effects grants more stats. It is mostly useful in Arena for providing multiple bodies for efficient trading.
Summon

Big, sharp, pointy teeth!