Secure the Deck
Secure the Deck
Sidequest: Attack twice with your hero.
Reward: Add 3 'Claw' spells to your hand.
"Tied it down, boss. I don't really know why you asked me to do that."
Secure the Deck is an epic druid spell card, from the Descent of Dragons set.
Secure the Deck can be obtained through Descent of Dragons card packs, through crafting, or as an Arena reward. Regular Secure the Deck can also be obtained through the Highest Rank Bonus chest at the end of a Ranked season.
| Card | Crafting cost | Disenchanting |
| --- | --- | --- |
| Secure the Deck | 400 | 100 |
| Golden Secure the Deck | 1600 | 400 |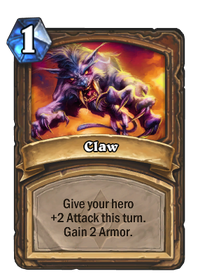 Please add any available information to this section.
In Wild, this card can be used with Gonk, the Raptor for an OTK.
1. Complete one or both quests, possibly aided by Twig of the World Tree.
2. Draw Flobbidinous Floop or Faceless Manipulator and Gonk, and reduce their prices with Emperor Thaurissan.
3. Wait for your opponent to control multiple minions.
4. Play Gonk, copy it, and play multiple zero-mana Claws.
5. Clear the board, triggering both Gonks with each hit and gaining lots of bonus attacks.
This combo allows you to attack the opponent's hero repeatedly, killing them in a single turn.