Seal Fate
Seal Fate
Deal 3 damage to an undamaged character. Invoke Galakrond.
Firmly press the seal of your fates instead of leaving the flap open.
Seal Fate is a rare rogue spell card, from the Descent of Dragons set.
Seal Fate can be obtained through Descent of Dragons card packs, through crafting, or as an Arena reward. Regular Seal Fate can also be obtained through the Highest Rank Bonus chest at the end of a Ranked season.
| Card | Crafting cost | Disenchanting |
| --- | --- | --- |
| Seal Fate | 100 | 20 |
| Golden Seal Fate | 800 | 100 |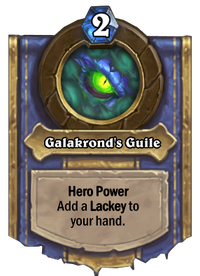 While Seal Fate is very inefficient on paper, paying 3 mana over Backstab for 1 extra damage and a Lackey, it can be a deceptively powerful early-game tempo option. Cheating this card out with Preparation lets you easily remove 1- or 2-drops with no real loss of card advantage. Rogue also benefits from Lackeys as both tempo plays and Combo enablers, and of course, it helps upgrade Galakrond, the Nightmare in preparation for a big late-game turn.