School Spirits
School Spirits
Deal 2 damage to all minions. Shuffle 2 Soul Fragments into your deck.
"B-E A-G-G-R-E-S-S-I-V-E!"
School Spirits is a common warlock minion card, from the Scholomance Academy set.
School Spirits can be obtained through Scholomance Academy card packs, through crafting, or as an Arena reward.
| Card | Crafting cost | Disenchanting |
| --- | --- | --- |
| School Spirits | 40 | 5 |
| Golden School Spirits | 400 | 50 |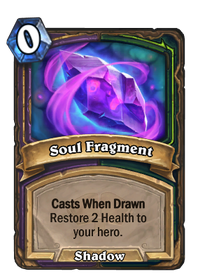 A very solid control tool for decks that are looking for cheap, and all around great board control tools.
School Spirits works particularly well against aggro decks.
This card essentially is a strictly better version of Volcanic Potion, as this has the same effect with the added bonus of 4 healing over time.
Synergises exceptionally well with a control-type Handlock deck, as a control warlock could always use cheap AOE and due to the abundance of draw, you can get plenty of the healing value offered by the soul fragments.
Goes well with Bloodmage Thalnos.