Sated Threshadon (Battlegrounds)
Sated Threshadon
Deathrattle: Summon three 1/1 Murlocs.
Sated Threshadon was a Tier 5 minion in the Battlegrounds game mode.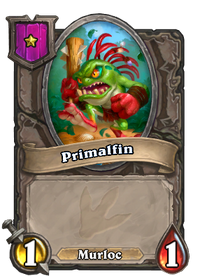 Despite being a Beast that summons Murlocs, Sated Threshadon struggled to find a place in either strategy.
Murlocs lack minions that buff themselves in combat, aside from a trivial +3 Attack buff on Murloc Tidecaller, meaning that the only possible niche for this card's Murloc tokens was breaking Divine Shields and diverting attacks.
Beast warbands, on the other hand, favoured Savannah Highmane and Rat Pack due to their tokens being Beasts themselves, which benefitted from all the same synergies as the original minion including receiving buffs from Mama Bear, Pack Leader, and feeding Scavenging Hyena when they die.