Sated Threshadon
Sated Threshadon
Deathrattle: Summon three 1/1 Murlocs.
Bet you can't eat just one murloc!
Sated Threshadon is a neutral common minion card, from the Journey to Un'Goro set.
Sated Threshadon can be obtained through Journey to Un'Goro card packs, or through crafting.
| Card | Crafting cost | Disenchanting |
| --- | --- | --- |
| Sated Threshadon | 40 | 5 |
| Golden Sated Threshadon | 400 | 50 |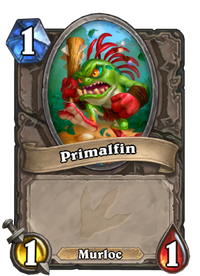 This minion is a variation of Captured Jormungar, trading 2 health for a potent Deathrattle. On top of creating several minions, the Deathrattle also spawns Murlocs, which could be useful with certain synergies, especially Murloc Warleader or Murloc Tidecaller.
From Wowpedia:
A threshadon (a.k.a. a thresher) is a large, long-necked plesiosaur that can only swim. They are found in the watery areas of Darkshore, Wailing Caverns, Loch Modan, Lake Everstill, and other areas. A threshadon boss named Nessy can be found in the underwater section of the Deeprun Tram. Apparently, the threshadon produces ambergris.
This threshadon seems to have eaten many murlocs, and a handful are freed from its stomach when it dies.