Rustsworn Initiate
Rustsworn Initiate
Deathrattle: Summon a 1/1 Impcaster with Spell Damage +1.
The Rusted Legion's training leaves a little to be desired. He hasn't even had a tetanus shot yet!
Rustsworn Initiate is a common neutral minion card, from the Ashes of Outland set.
Rustsworn Initiate can be obtained through Ashes of Outland card packs, through crafting, or as an Arena reward.
| Card | Crafting cost | Disenchanting |
| --- | --- | --- |
| Rustsworn Initiate | 40 | 5 |
| Golden Rustsworn Initiate | 400 | 50 |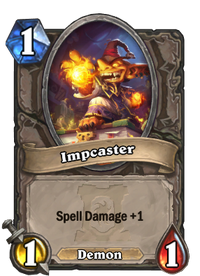 Rustsworn Initiate can be useful as a reasonably sticky minion. It fits best in a token deck that uses a handful of spells, making some use of both of this card's effects.
As a source of Spell Damage, Rustsworn Initiate is not ideal. Most Spell Damage cards want to be played on the same turn as a spell, which is very difficult to do with this card. Kobold Geomancer and Bloodmage Thalnos are better neutral Spell Damage cards for 2 mana.
Summon

So, where does the magic come from?


Attack

Like this?