Rusted Fel Orc
The subject of this article is part of the
Ashes of Outland's single-player content.
Rusted Fel Orc
Whenever this minion attacks, give all Rusted Fel Orcs +1 Attack.
Rusted Fel Orc is a boss minion card, used by Magtheridon Prime in Trial by Felfire.
For more information, see Magtheridon Prime.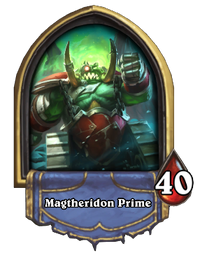 Summon

For Jaraxxus!


Attack

Rwahaha!