Rumbletusk Shaker
Rumbletusk Shaker
Deathrattle: Summon a 3/2 Rumbletusk Breaker.
Rub a dub dub, three trolls in a tub.
And who do you think dey be?
Da Shaker, Da Breaker, and Da Undatakah.
And all of dem comin' for me.
Rumbletusk Shaker is a common neutral minion card, from the Rastakhan's Rumble set.
Rumbletusk Shaker can be obtained through Rastakhan's Rumble card packs, or through crafting.
| Card | Crafting cost | Disenchanting |
| --- | --- | --- |
| Rumbletusk Shaker | 40 | 5 |
| Golden Rumbletusk Shaker | 400 | 50 |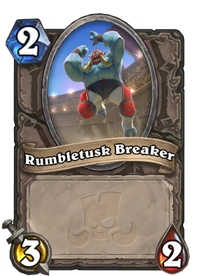 This minion is comparable to Harvest Golem or Scarlet Crusader as a small minion that needs to be damaged twice to be removed. Its aggressive statline and defensive ability make it a good candidate to use to trade up into larger minions, and can even be played into an Area of Effect ability since it has equal stats before and after death. Vivid Nightmare works well with this card, as the copy only loses 1 health in exchange.
Summon

Put me in, mon! It's my turn!


Attack

One, two!