Ring Toss
Ring Toss
Discover a Secret and cast it. Corrupt: Discover 2 instead.
If you liked it, then you shoulda put a ring on it!
| Card | Crafting cost | Disenchanting |
| --- | --- | --- |
| Ring Toss | 100 | 20 |
| Golden Ring Toss | 800 | 100 |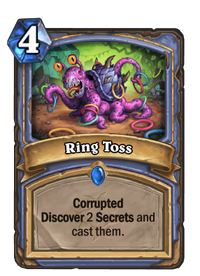 Please add any available information to this section.
Located next to the Southern Pavilion, this game provides guests with 10 rings in which to toss onto the pole attached to Dubenko, a turtle in a large circular pen. Dubenko moves a few yards from time to time, and the ring toss itself is not entirely precise. Jessica Rogers runs the game and provides the associated quest, Target: Turtle, which asks for 3 rings on the pole.
This card's flavour text is in reference to 'Single Ladies (Put a Ring on It)', a song by American singer, Beyoncé.