Returns & Exchanges
"The only thing better than receiving a gift, is returning it! Build a deck of 20 minions, we'll give you 10 random spells, and then gift it to your opponent. Let's see who wants to swap back?"
Returns & Exchanges is a Tavern Brawl. It made its debut on December 19, 2018.
| Tavern Brawl | Start | End | Notes |
| --- | --- | --- | --- |
| 184 | December 19, 2018 | December 24, 2018 | Winter Veil Treat card back reward |
This Tavern Brawl sees players doing battle with custom decks composed with 20 choosen minions and 10 random spells. At the start of the game, a Happy Winter Veil! will be casted, swapping both decks and a copy of Gift Receipt will be given to both players (when one of them is casted, the decks will be swapped back and the other copy will be discard from the player's hand).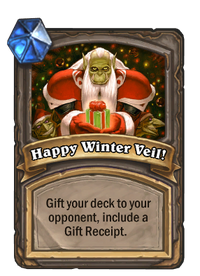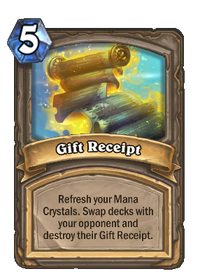 | | Tavern Brawls |
| --- | --- |
| Constructed | |
| Randomized | |
| Premade | |
| Brawliseum | |
| Cooperative | |
| Single-player | |
| Fireside Brawls | |