Replicating Menace
Replicating Menace
Magnetic
Deathrattle: Summon three 1/1 Microbots.
It's a car!
*Whomp whomp whomp*
It's a robot!
*Whomp whom-CRUNCH*
It's... three.. smaller robots!
Replicating Menace is a rare neutral minion card, from The Boomsday Project set.
Replicating Menace can be obtained through The Boomsday Project card packs, or through crafting.
| Card | Crafting cost | Disenchanting |
| --- | --- | --- |
| Replicating Menace | 100 | 20 |
| Golden Replicating Menace | 800 | 100 |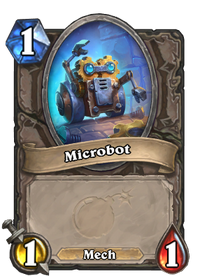 Replicating Menace has incredibly powerful mech synergies, both being a mech itself and also summoning mechs upon its death, this card is best used with mechs which have high health but low attack, such as Upgradeable Framebot and Bronze Gatekeeper.
Replicating Menace is optimal in a deck with many mechs, such as Mech Hunter, to more consistently find targets to magnetize onto. Unlike Zilliax, which is a powerful standalone card, players who play Replicating Menace without magnetizing it onto another mech will be severely disadvantaged.