Reno Jackson (Tavern Brawl)
Reno Jackson (Tavern Brawl)
Last seen "exploring" near the Dalaran Crater.
For other representations of Reno, see Reno Jackson (disambiguation).
Reno Jackson is the fourth boss that can be encountered in Tavern Brawl The League of Explorers: Revived!.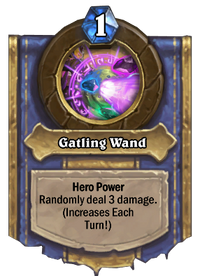 None
The below classes are listed purely for reference, and have no effect on the boss' use of the cards in the encounter.
Before match
Elise the Enlightened

The fate of the world depends on us!
Introduction
Reno Jackson

Hey! Look what I found!
Turn 1
Reno Jackson

Go away! I'm in the middle of practicing!

Elise the Enlightened

But we need you to save the world!

Reno Jackson

Laaater!!
Mage spell
Reno Jackson

Look at that! Ha, I'm basically Medivh!

Elise the Enlightened

You are basically NOTHING like Medivh...
Second use of hero power
Reno Jackson

HA! Uh... oops?
First spell on turn 6
Reno Jackson

Wasn't supposed to do that, buuut I did.

Elise the Enlightened

*exasperated sigh*
Death
Elise the Enlightened

I have an idea, practice against the League of E.V.I.L.

Reno Jackson

Ooo YES... who are they again?
Defeat
Reno Jackson

Nobody saw that... I hope?
The gang's all here! The League of Explorers has arrived, and that means their fearless leader Reno Jackson is back and, thanks to his new Gatling Wand, he's bringing tons of magical mischief as a new Legendary Mage card.[1]
This card represents Reno Jackson as he appears during the events of Saviors of Uldum.
Reno's class is based on whatever amazing loot he has most recently found and is currently using. In this incarnation, he takes the role of a mage due to having picked up a magical "Gatling wand".[2][3][4]