Remorseless Winter

No results
Remorseless Winter
Deal @ damage to the enemy hero. +1 Damage each time.
Remorseleless Winter is a boss hero power used in the Lich King encounter in Knights of the Frozen Throne.
For more information, see The Lich King (boss).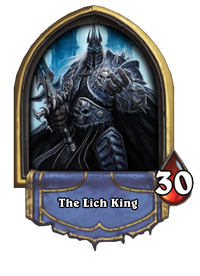 This Hero power was showcased at Gamescom 2017's "Lich King vs. Tavern" Fireside Brawl, where the attendants fight with a Lich King that has 999,999 HP.
In the final Lich King boss, the Hero Power will activate once all Trapped Souls are defeated and Frostmourne destroyed.