Recruitment Map
Recruitment Map
Discover a minion
from Tavern Tier @.
Recruitment Map is an uncollectible neutral spell created by Lead Explorer in the Battlegrounds game mode.
For more information, see Lead Explorer and Elise Starseeker.
This card will Discover a minion of the Tavern Tier you've upgraded to when you receive the card. (Ex. When you upgrade to Tier 3, you gain a Recruitment Map that lets you Discover a Tier 3 minion.)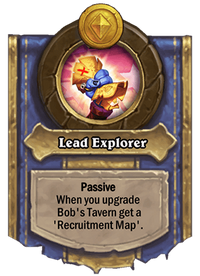 Server-side patch (19-11-2019): Added.