Queen Wagtoggle (Battlegrounds)
For the boss of the same name, see Queen Wagtoggle.
Queen Wagtoggle is a hero that the player can pick in the Battlegrounds game mode.
For more information, see Battlegrounds.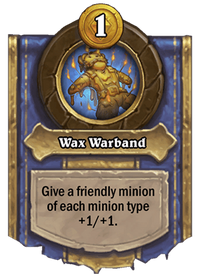 Queen Wagtoggle's Hero Power rewards you for playing a variety of minion types. This allows you to be more flexible with the minions you buy, as buffing their attack helps make up for weaker builds. It also means you can adapt your build on the fly, making you less reliant on specific minions which your opponents might acquire first.
Although the attack of minions is not a problem, it is recommended to pick minions with divine shield, deathrattle or high health to compensate for lack of minion endurance in the early run.
As you increase Tavern Tiers, try to sell off minions of the same type to swap them out, i.e. if you want to buy a new beast, then sell an old beast.
To get triples, hoard your cards. You do not need to play every minion you buy, since the minions you have in play for the greatest number of turns will have the most stacked bonuses from your Hero Power.
Patch 17.4.0.49534 (2020-06-09): Hero Power now reads "Give a friendly minion of each minion type +2 Attack".

Hero Power now affects Pirates.

Server-side Patch (2020-03-05)

Returned to the pool of possible heroes.
(Undocumented) War Warband now also gives a Dragon +2 Attack.

Patch 16.4.0.42174 (2020-02-26): (Undocumented) Temporarily removed from the pool of possible heroes.
Patch 16.0.8.39282 (2020-01-09): Wax Warband: Now gives +2 Attack instead of +1 Health.
Patch 15.6.0.35747 (2019-11-05): Added.
Battlegrounds
Heroes
Cards

Tier 1

Tier 2

Tier 3

Tier 4

Tier 5

Tier 6

Retired

Heroes

Minions