Puffin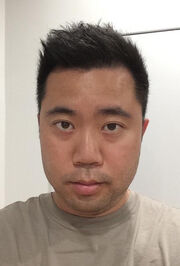 Puffin is an Associate Game Designer on Team 5,[1] as well as a streamer and top-ranked player of Hearthstone.
Puffin regularly achieves top 100 Legend rank,[2][3][4][5] peaking as high as Legend 2 in the Americas region,[6] and has participated in a number of tournaments including the 2014 Hearthstone World Championship, where he reached the Americas Qualifier.[7] Prior to joining Team 5 in February 2017, Puffin worked on the Hearthstone Community Team from November 2015.[8]
Puffin has played Hearthstone since at least December 2013 (during the closed beta).[9] He was part of the winning NA team in the NA vs CN 2P tournament in December 2013, which he describes as "the first big [third party] Hearthstone tournament" following the first official tournament at BlizzCon 2013.[7]
Puffin was interviewed as part of the Road to BlizzCon feature in the run up to the 2014 Hearthstone World Championship.
(2017-02-13): Puffin has joined Team 5.[1]