Protect the King!
Protect the King!
For each enemy minion, summon a 1/1 Pawn with Taunt.
Form ranks! Everyone into the King's Tuskarr Defense!
Protect the King! is a rare warrior spell card, from the One Night in Karazhan set.
Two copies of regular Protect the King! are obtained by defeating the Chess event, the third encounter in One Night in Karazhan's first wing, The Parlor.
As a Wild format card, both regular and golden versions of Protect the King! can also be crafted for the following amounts:
| Card | Crafting cost | Disenchanting |
| --- | --- | --- |
| Protect the King! | 100 | 20 |
| Golden Protect the King! | 800 | 100 |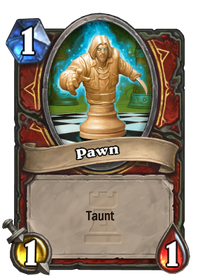 This card is useful for slowing the opponent, especially if they have large minions, and lack AoE removal. Its effect is magnified by the number of enemy minions, but the 1/1 Pawns are easily removed, meaning by itself this card will usually only buy a single turn. However, combined with Bolster this card can provide excellent value, allowing the warrior to turn the tide of battle against Zoo decks.
The Pawn's summon quote "En passant" refers to En passant, a chess mechanic that under certain circumstances allows a pawn to capture an enemy pawn by moving past it.
Artist Jim Nelson originally sketched the card's art as a more expansive scene, showing a number of pieces in battle (see below), but a decision was made to zoom in one area in order to make it clearer on the card itself.[1]
This is the third card to be added which has a scaling effect based on the number of enemy minions.