Primordial Bulwark
Primordial Bulwark
Passive
Block lethal damage and deal 20 damage to the enemy hero
(once per game).
Primordial Bulwark is an uncollectible neutral spell card, from the Saviors of Uldum set. It can be drafted as a Passive treasure in a Tombs of Terror run.
For more information, see Tombs of Terror.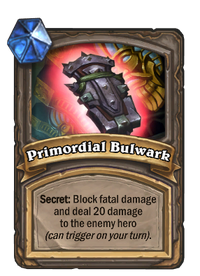 Be very careful if your opponent disarms (Flare), or worse, takes control of the secret (Kezan Mystic), as it will not only let you take lethal damage, but it could end up giving them 20 inescapable damage.
Combined with Aegis of Death means a garanteed 10 turn invincibility with a 20 damage to the boss at the end of the turns, for the encounter the Aegis of Death is played.